where's danny?
May 1, 2013
Good Housekeeping
Pick up the May issue of Good Housekeeping to see Danny's home line featured as a Good Pick!
May 18, 2013
Chicago Green Festival
Come meet Danny at the Chicago Green Festival.
August 20, 2013
Danny Seo Reserve Launch
Tune in to HSN to see the worldwide launch of Danny's fragrance collection: Danny Seo Reserve.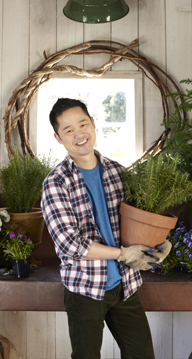 About Danny
Environmental lifestyle expert Danny Seo calls his eco-friendly way of living "Simply Green." Through his best-selling books, television programs, products, magazine columns and his how-to lifestyle lectures, Danny Seo continues to share the creative ideas that have made him America's leading lifestyle authority on modern, eco-friendly living. Born on Earth Day in 1977, Danny has championed the natural biodiversity of our planet from a very young age. On his 12th birthday, he founded the organization Earth 2000 with just a few friends and $23. By his 18th birthday, he had transformed the grassroots organization into the country's largest teenage activist charity, spearheading worldwide campaigns on behalf of the environment. Danny encourages America to live a greener lifestyle. His first lifestyle book
Conscious Style Home
(St. Martin's Press; 2001) chronicles his renovation of his parents' home in Green Hills, Pennsylvania, using easy-to-find, eco-friendly materials. The beautifully photographed book received rave reviews in
The New York Times
,
Elle
,
Food & Wine
,
Elle Decor
, and
USA Today
, who raved "Say 'environment' to Danny Seo, and it's as if you've punched the word into the search engine Google: Out roars an avalanche of ideas and references that threatens to scramble your brain."
Conscious Style Home
helped Danny soon become America's favorite environmental lifestyle authority. In Fall 2011, Danny's seventh book—
Upcycling—
will be published featuring hundreds of innovative, easy and eco-friendly craft projects that turn useless stuff into beautiful new things.  This book is based on his wildly popular regular segments on NBC's "The Today Show" where he shows hosts Kathie Lee Gifford and Hoda Kotb how to craft, often with hilarious results. Danny's creative vision that style and sustainability can be married together has created an extensive portfolio of work including the Danny Seo Home collection sold nationally at stores like TJ Maxx, Marshalls and HomeGoods; nationally-syndicated newspaper column
"Do Just One Thing;"
the Simmons BeautyRest Elements by Danny Seo mattress line; the DVD
"Simple Steps to a Greener Home;"
one-a-day and wall calendars with Trends International; and a series of books including
Simply Green Parties
and
Simply Green Giving
.